HOLY vending machine
It all started with the HOLY vending machine. In the year 2000, in the Holy district of the city of Vlaardingen, the first interactive vending machine with a screen was fitted. It was a world first! Especially unusual: the vending machine was filled with healthy and responsible snacks.
Responsible snacking
HOLY vending machines are filled with all kinds of delicious and healthy organic and fair-trade snacks. You can also fill the vending machines with your own choice of responsible products. Feel free to discuss the possibilities with us.
A self-portrait of your organisation
The HOLY vending machine has a built-in screen with a jukebox on which animation clips can be seen. The vending machine is a responsible work of art for every canteen, waiting-room, station platform or other public space. With a HOLY Partnership, it is also possible to show animation clips of your own school or organisation. You decide and control the supply of clips yourself. By installing a HOLY vending machine, you show that you think responsible foodstuffs are important. In addition, making your own animation clips shows a topical and creative self-portrait of your organisation.
Chatting about sustainability by the vending machine
The vending machines are also a great success in schools. Pupils love to gather around a HOLY vending machine in the break and can enjoy responsible snacks, watch films and talk about them at the same time. In addition to the workshops about sustainability, the HOLY vending machine also makes pupils more aware about the production of sustainable and socially responsible foodstuffs.
HOLY vending machine @ the European parliament Brussels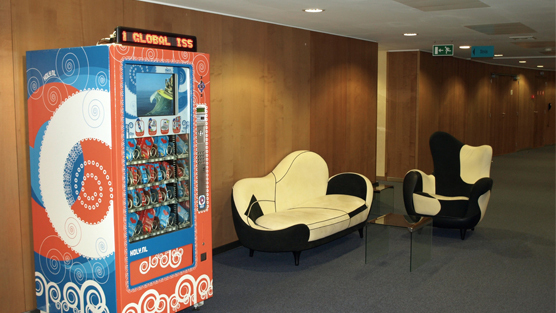 HOLY Vending machine at KWC Culemborg