Theme projects
Several theme project are already very well-known. More than 300,000 Dutch kids have made clips about freedom, sustainability, and fair food. HOLY frequently adds new theme projects, and schools and organisations regularly begin new initiatives. Young people are very proud of their clips and are eager to distribute them through social media, theme websites, and HOLY vending machines at school.
Clips for Freedom
This project was initiated after the murder of the Dutch film-maker Theo van Gogh. Soon after his death, students at a school in Amsterdam made moving animations. The clips reflect the sadness and outrage so powerfully that the Liberation Festival screened them in Oosterpark on May 5th. Today, "Clips for Freedom" is known throughout the country.
You can see the best animation clips not only on www.clipsvoorvrijheid.nl and the social media but also on large screens during liberation festivals on Holland's liberation day, May 5th. The animation makers discuss their work, and the event typically receives a lot of publicity.
Clips for Sustainability
Ever since its foundation, HOLY has fought for a sustainable and better world for people, the environment, and animals. A HOLY vending machine, for instance, only contains fairtrade snacks. To raise awareness among youth about fair food, "Clips for Sustainability" has been developed.
During the workshops, we examine various aspects of sustainability—for example, the impact of transport and our use of energy and water on our everyday environment. Or: the role and consequences of (ir)responsible food production in society. On the Day of Sustainability, the best clips were screened at the Children's Council in Nemo Science Centre, at the Sustainable 100 Dinner, during the National Sustainability Congress, and—of course—on the HOLY vending machines which were installed at organisations and schools as a student initiative. These vending machines include a built-in screen on which the clips are being played.
"Food from the 'Hood"
Times when we kept our own cattle, caught fish, and grew our own vegetables are far behind us. Almost all vegetables, dairy products, and meat and fish from all corners of the world can now be bought at the supermarket. "Food from the 'Hood" makes young people aware of the importance of fair food and local produce.
Young people "farm it" for a day. They see with their own eyes how food can be grown in fair and sustainable ways. They also taste it to see whether they can tell the difference between organic and non-organic food. After visiting the sustainable farm, they make an animation during the workshops about fair food.
The animation clips are part of a tasty campaign about fair food. "Food from the 'Hood" is partly supported by the Ministry of Economy, Agriculture and Innovation.
"Clips for Freedom" during liberation festivals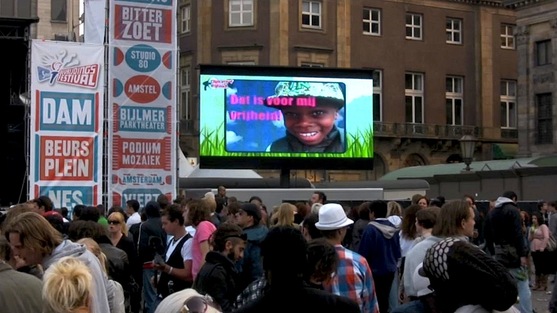 Harvesting pumpkins 'Food from the Hood'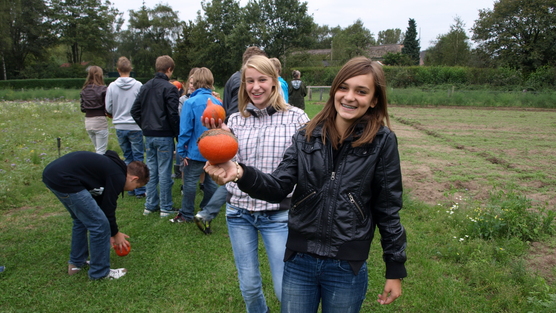 "Making 'Clips for Freedom' should be a fixed part of the (social sciences) curriculum for all schoolchildren. Becoming aware, being aware of freedom and the right to freedom are essential to maintain the quality of our life."
Jury member Louis Hilgers about "Clips for Freedom"