For schools
More than 30,000 students have already participated in the school programme. With the help of the appealing HOLY teaching method, students play and learn about current themes and make an animation clip. Your school can choose individual workshops from HOLY. But it's even more effective to begin a partnership. This way, you can adapt the teaching method to your own vision and apply it in a multi-disciplinary fashion, using it as frequently as you want and when you want.
HOLY Animation workshops
During workshops at your school, teachers express their thoughts and opinions about current themes and topics in an animation.
Due to the simple and versatile online HOLY Animator, students can quickly translate their opinions in their own visual language. At the end of the workshop, we will discuss the animations.
Teachers can use online teaching materials. With the help of these materials, instructors can teach a preparatory lesson in order to take an in-depth look at the topic of choice, inspire students with ideas, and generate enthusiasm.
In thematic workshops, students automatically take part in a national competition. The best clips from "Clips for Freedom," for instance, are shown during the annual Liberation Festival events on large screens.
After the workshops, young people can share their animations where-ever they like: on Facebook, Hyves, Twitter, animation websites for schools (in the case of partnership), on large screens in schools, through the screens on the HOLY vending machine, which is filled with socially-responsible snacks. Anything goes.
Practical information about animation workshops
Target audience: Students from 8 to 18 from all academic levels
Subjects/applications: Arts centre, ICT, social studies, languages, biology; multidisciplinary application and appropriate for project weeks.
Duration: 3 hours or one morning/afternoon/evening.
Needed: one computer with Internet for every two students. No separate software needed.
Guidance: professional film makers and animators with teaching experience at HOLY.
Themes: sustainability, tolerance, fair food and freedom or themes affecting your school.
Payment: easy payment with the Culture Card.
HOLY Partnership
With a HOLY Partnership, you can make unlimited use of the appealing HOLY teaching method as you see fit. You can use the online animation tool and the HOLY teaching materials during regular classes and projects or in a multidisciplinary context. As often as you like, whenever you like. Teachers will also receive training on how to give inspiring animation lessons and how to use our teaching method fully. Another positive point: your teachers acquire more and more experience. This way, they take full advantage of the teaching method.
Advantages of the HOLY Partnership
Appealing teaching method can be used as you see fit:
Your school can use the online HOLY teaching method for teachers and students structurally, as you see fit and in a multidisciplinary context—for instance, for subjects or themes that are important at your school.
Students show their clips on the animation site and screens at your school:
Your school gets an animation site with its own house style on which students can show their clips. In addition, with the relevant special play function, you could show the clips made on screens within your school. Students can also show their clips on HOLY vending machines.
Easily prepare made-to-measure classes:
Teachers can maintain the animation site online. They can add subjects of their choice, upload their own texts and visual materials, and even organise competitions.
Cheaper: give your own animation lessons:
HOLY trains teachers so that they can give their own inspiring animation lessons. Students can also attend a training course for a more in-depth look at a topic or for the purposes of assisting in other classes. You no longer need external workshop leaders.
HOLY Animator is user-friendly and you can share views instantly:
Students can make a clip within a one-hour class and can share the animation and their views via social media. Their views and work will be made public and does not disappear into a closet.
Discover what your school can do with a partnership. Call us at +31 20 716 3770. We are eager to help.
HOLY vending machine
Healthy snacks at school? Having a chat about sustainability or other social issues during the break? It's all possible with the HOLY vending machine at your school. A HOLY vending machine is filled with fair and healthy organic snacks. The vending machine even has a built-in screen with jukebox on which you can see the animation clips that have been made. You can also add your own responsible products to the vending machine. Read more about opportunities or call us.
HOLY animation workshop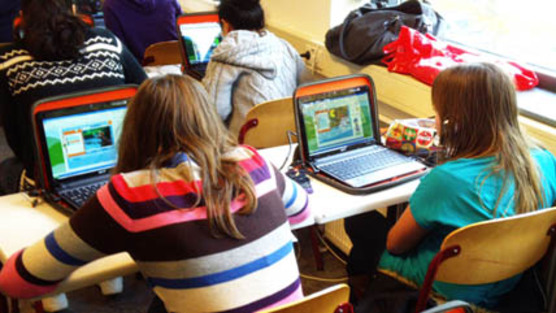 Working together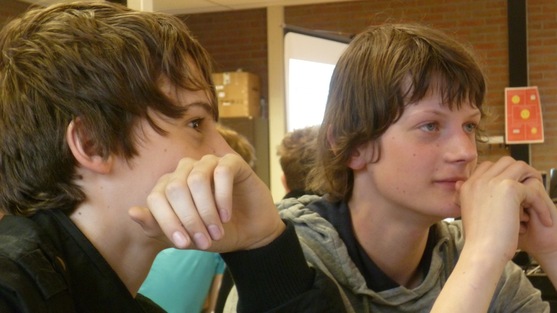 "We think that if the pupils are involved with several subjects and the same theme, they learn better and that HOLY plays an important role in that."
Arts teacher at Erfgooiers College, Huizen
"I understood the tool at once and made a clip within one hour. So that went very rapidly. It's very enjoyable to make a clip. It's really your own and you can see what you have made."
Pupil at Erfgooiers College Huizen